Why Give Your Marketing Strategy a Year?
Client Traffic Fluctuations and Your Marketing Strategy 
My name is Jennifer Ellis. Don't be confused! Yes, there are two Jennifers at Extend. Jennifer (Jenn) Breymaier is your Sales and Customer Service Specialist, and I am your Customer Support Specialist with Extend Web Services. You may see my name when you submit a support ticket and receive a reply, when you send an email to This email address is being protected from spambots. You need JavaScript enabled to view it. or when you call us.
I have been with Extend at Heartbeat International for six months and have been serving in pregnancy help since 2011. I served as a Consultant/Client Advocate, Center Manager, and Director of Client Services. Please know that I am here if you have questions or even just need someone who has been in the centers to pray with you and offer some encouragement. 
Marketing Strategy/Plan
At Heartbeat International, we want to encourage you to have a solid marketing plan and strategy that aligns with the mission, vision and goals of your organization. It is important as you develop this strategy, to develop clear, SMART goals. The goals should be Specific, Measurable, Achievable, Timely and Relevant. Part of the timely portion of these goals is to give your marketing strategy a year to play out and get a true picture of how it is working. 
Why Give the Marketing Strategy a Year? 
I'm sure many of you have noticed the ebb and flow of clients week to week or month to month in your centers. Let's take a look at that. ·      
January – This is the month after Christmas and New Year's and after many centers may have been closed extra days for the holidays. It often leads to higher website and social media traffic and client visits in January.
February – It's winter and the weather in portions of the United States is not good and many people are staying in due to snow, ice and the cold. There was also a three-day weekend in January, another in February and then Valentine's Day too. All of these factors can increase or decrease your client visits. If the weather is bad people may not want to go out but then lookout several weeks later when there is suddenly an increase of pregnancy test appointments after that snowstorm or after Valentine's Day. 
March and April – Often Spring Fever has kicked in and Spring break trips are happening, so numbers may once again fluctuate and be lower during the high school or college spring break in your area but then watch for the potential increase in traffic a few weeks later when women may become concerned over missing a period after a Spring Break trip.
May – It's the end of the school year for high school and college students and often a very busy time. Prom also takes place. Then after school is out, the students have more time on their hands. Watch for that potential increase in client visits after something like Prom. So once again, in May your numbers can fluctuate. 
June, July and August – In the summer, the website/social media traffic can once again fluctuate, which is to be expected. There are summer vacations and extra time for students to be with their significant others and then become concerned that may have become pregnant.  In some states, there is the severe weather concern from June through November with things like hurricanes that cause people to have to stay at home in close quarters during storms. Then a few weeks later the center sees in an increase in traffic. 
September/October – Students have gone back to school and busy schedules start up again. This may cause your number to once again fluctuate. 
November/December – The holidays have come, students have final exams, and there are Christmas and New Year's Eve parties. All of these factors can come into play with the traffic to your website/social media and visits to your center. 
With the ongoing ebb and flow of client traffic, it is important to give your marketing strategy a year to truly get a good picture of how it is working for your organization and meeting those SMART goals you set. 
Looking back at your client data, you probably already know the times of year when more clients connect with you. We can help you use this valuable insight to enhance your marketing to expand your reach even further!
At Extend, we are here to help you reach the women and families that need your help. Have you begun to create a marketing plan and the strategy to implement it but aren't quite sure where to go or what's next?  This email address is being protected from spambots. You need JavaScript enabled to view it. by email or fill out our online contact form if you have any questions and if we can help you meet your clients right where they are at.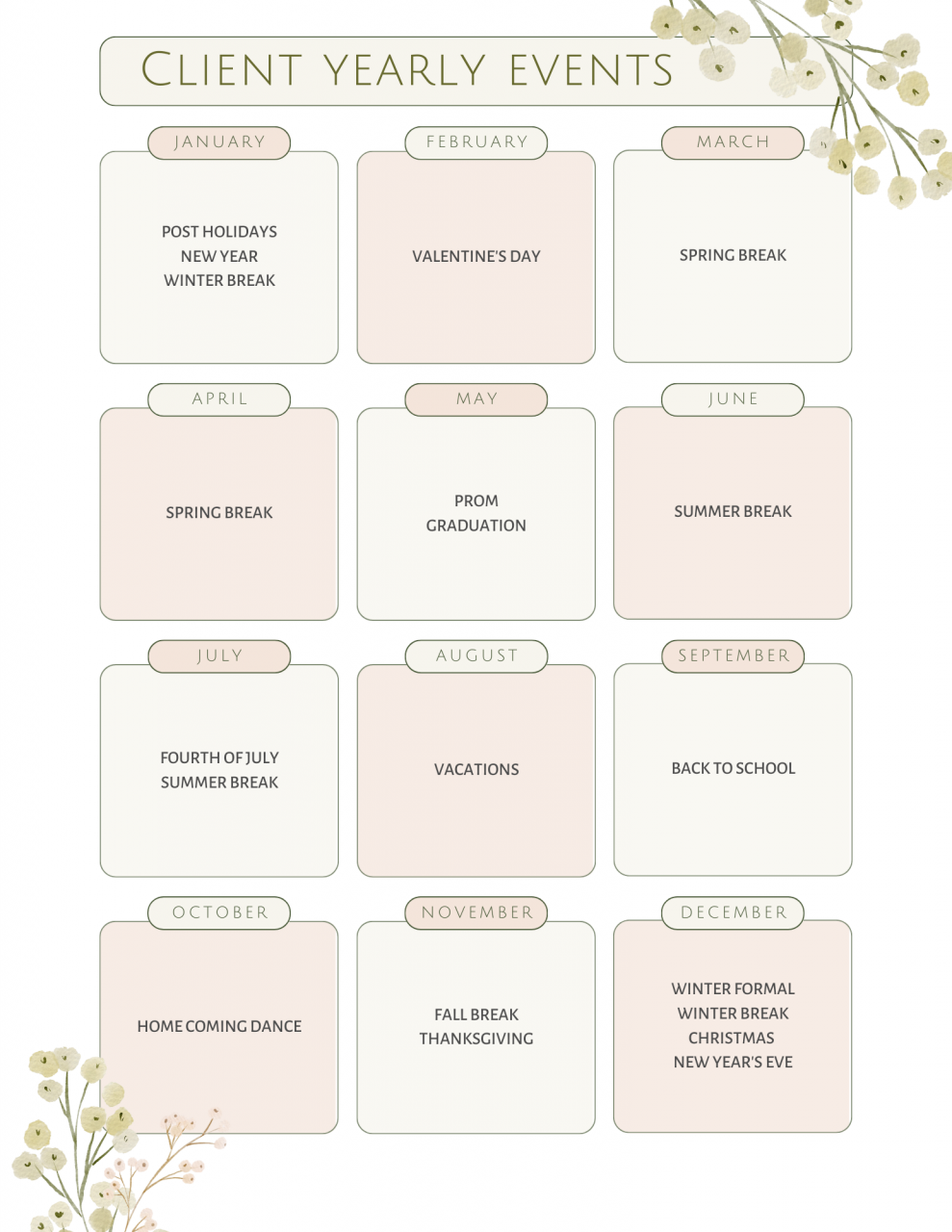 Stay Informed
When you subscribe to the blog, we will send you an e-mail when there are new updates on the site so you wouldn't miss them.
Comment for this post has been locked by admin.