Jenn's Question of the Month: Google Ads or Google My Business?
Happy September! I don't know about you, but the chatter of Thanksgiving and Christmas is already around me. 
This month I want to focus on two specific areas that are crucial to your marketing plan – Google Ads and Google My Business.  There are so many different areas that you can branch out when it comes to marketing to reach your target audience. From tv ads, to billboards, radio stations, and all things social media. Then of course there is your website, SEO (which is so many things), and videos that can be placed in multiple areas to increase your reach. 
The many different areas of marketing can seem endless. The goal is to figure out what works best for you so that you can be sure you are front and center for the audience you are working to make a connection with. Trying to understand each important area of marketing can be confusing. There is a lot that goes into each piece of the giant marketing puzzle. The reason I want to focus on Google Ads and Google My Business this month, is because these are two areas that I get a lot of questions about, as they can be mixed up and misunderstood. What are they? What do they do for you? What does this look like for you?
Google Ads
Google Ads allow you to show up as close to the top as possible on Google, other Google partners search engines, videos, etc. This advertising platform was created by Google, which allows advertisers to bid on ad placement. 
These ads show before Google My Business listings and before organic search listings. They are a lot of times the first thing people see when searching for something online. On Google they will have a little ad box next to the advertisement and take you to a landing page set up with that specific campaign. 
With Google search being so widely used by so many individuals of all ages, this has continued to be a crucial area to be in for pregnancy help organizations to reach their target audience. 
Feel welcome to check out a sample of what a Google Ad looks like below: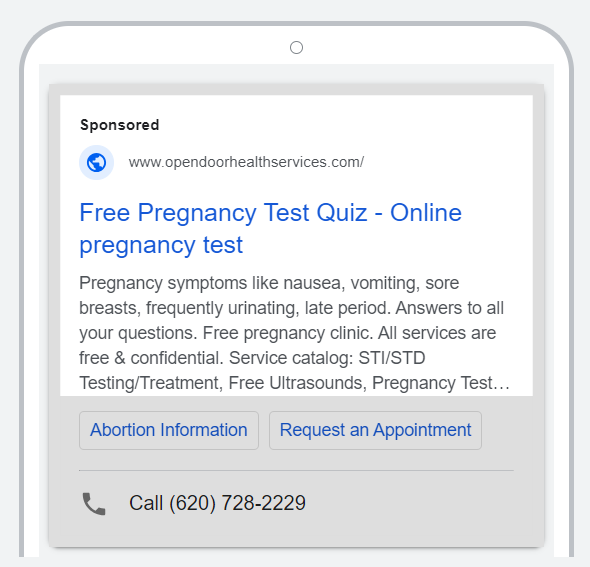 Google My Business (Local Search)
Google My Business is a tool that allows you to claim your business on Google and provide a variety of information to not only increase your business listing to let people know what you are all about, when you can be reached, and how to contact you – but also to build trust with Google to increase your presence within Google Business listings. 
This tool also allows individuals to leave a review for your organization which can of course be beneficial for others to see what others have experienced during time spent with your organization. These listings are placed under Google Ads and above organic search listings and continue to be very beneficial for pregnancy help organizations to reach their target audience. Check out a sample of a Google My Business listing below:
The Extend Team at Heartbeat exists to partner with pregnancy help organizations of all sizes to help make sure you have a strong presence in each of the crucial areas to connect with your target audience. And not just to connect but to build relationships – Lasting relationships that can make all the difference. 
Don't hesitate to reach out if we can help you!
And don't forget…You're doing great. 😉
Stay Informed
When you subscribe to the blog, we will send you an e-mail when there are new updates on the site so you wouldn't miss them.
Comment for this post has been locked by admin.