Jenn's Question of the month: Is your website empowering women?
And just like that, it is already July! And we are back to another Jenn's question of the month. Where I cover commonly asked questions that pop up when chatting marketing strategies with pregnancy help organizations around the country. 
Something we speak to quite often is the importance of empowering those who visit your website. And I have touched a bit previously on the goals of your client-focused website and the importance of establishing these goals, especially as you create your site and continue updating your site (which you should do often!). 
As you are trying to make connections with your audience, those connections can be hard to make if you aren't building trust and creating relationships. And building trust and creating relationships can be hard if the place that those go to learn more about you causes worry and doesn't seem supportive. And maybe you show support, but your images contradict that message or vice versa. 
Creating a warm and inviting space to let others know why you exist goes along with empowering women and letting them know they can do this, you are there for them, and that they are strong to do the things they don't think they can do. These are just a few empowering phrases that are recommended to showcase on your client-focused site. Don't forget the importance of reminding women how strong they are and sharing hope to those who come to learn more about you. Something else that also goes along with empowerment throughout your marketing would be imagery that is positive and not images that show hopelessness. Remember to keep images light and relatable in a way that individuals can easily see their strengths. We are here to build women up and let them know we are here for them no matter what stage of life they may be in, and this means sharing strength and hope daily. 
Now more than ever it is important to make it known that pregnancy help organizations exist to support women through so many stages of life and to equip them with the tools and materials needed to thrive and succeed. Think of the opportunity you are given to do just this throughout your marketing to reach women. And to let so many people know you are here not from just the beginning but throughout their journey. 
So yes - Using images, content, and phrases on your website to show your support and let the passion of your heart to be there for her shine – this is and always will be something recommended throughout your marketing strategy. 
Thanks for taking the time and take care!!
And don't forget – You're doing great! 😉
Feel welcome to check out a few samples below that show hope and empowerment on a few sites: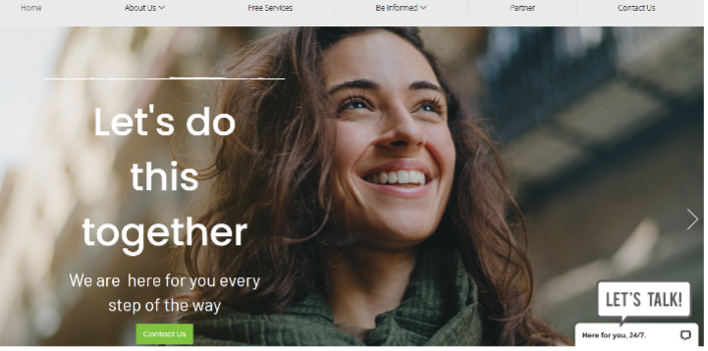 Stay Informed
When you subscribe to the blog, we will send you an e-mail when there are new updates on the site so you wouldn't miss them.
Comment for this post has been locked by admin.